AllStar Vending Services has been providing the Northern California region with superior customer service for over a decade.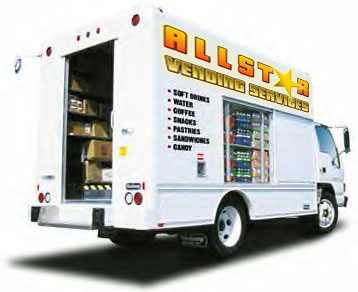 A leader in the Soda and Snack vending business, AllStar Vending's #1 priority is customer satisfaction.
We specialize in providing customized solutions to all our clients. Take for example our recent addition of providing a Glass Front Beverage Machine in response to our customers' requests.

Whether you are a small business of fifty people or large corporation employing hundreds, AllStar Vending's commitment is the same:
Provide the quality products your employees desire
Establish and maintain a friendly professional relationship AND MOST IMPORTANTLY keep your machines full, clean and in proper working order.
You have many large vending companies to chose from for your vending needs. Yet, their size may cause your needs not to be met due to unionized route drivers, inflexible schedules and internal bureaucratic policies. If this is the problem you currently face, or if you have just begun to explore vending services for your employees, give us a call. We know you agree with us that you and your employees deserve the very best service available.
AllStar Vending Services is committed to customer satisfaction. We would love the opportunity to customize a vending service suited to your business and the needs of your employees.